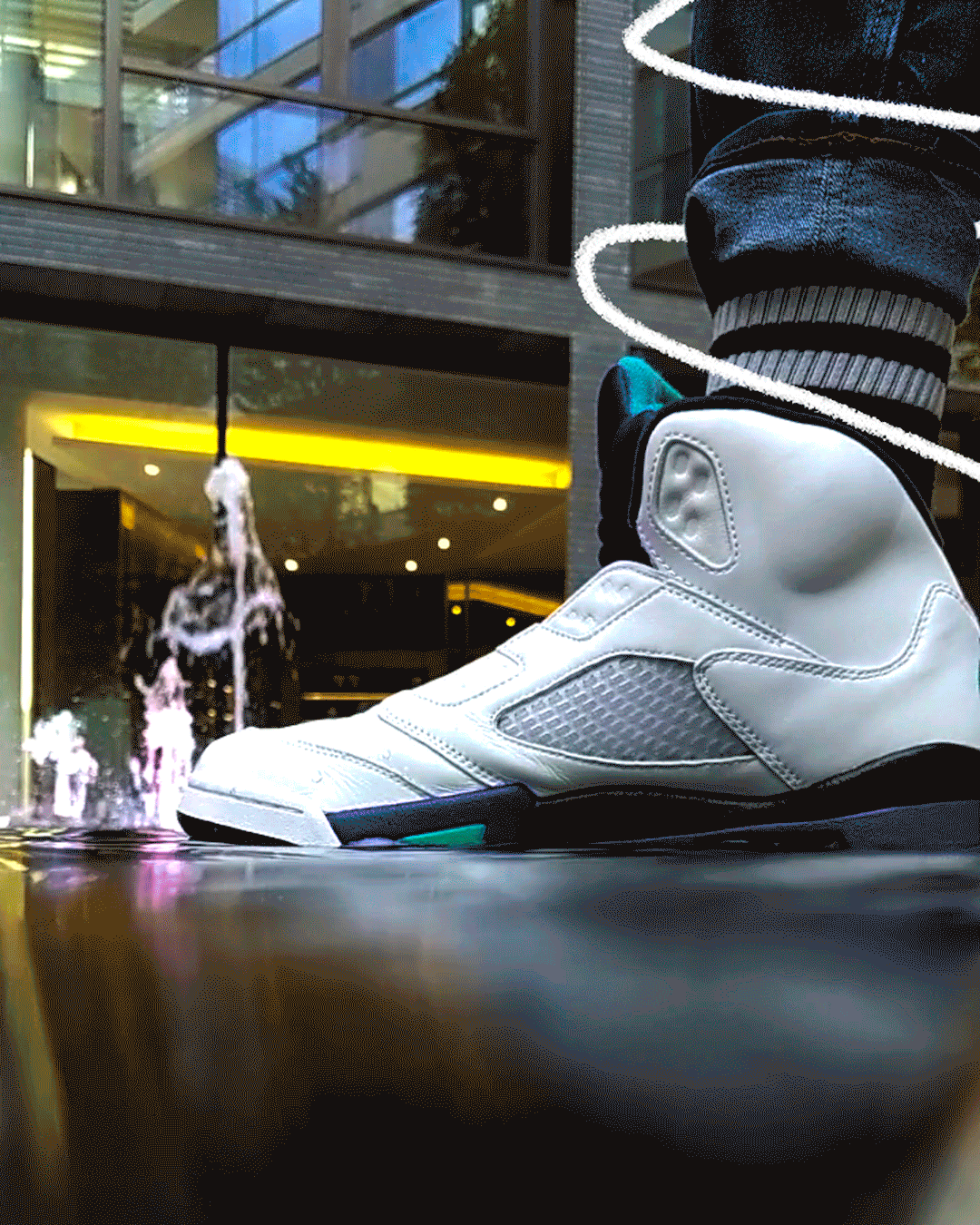 I spent a bit of time in London and saw an oppourtunity to create an image that showed my love for sneaker culture. 
Here you have the Jordan 5, designed by the legend that is Tinker Hatfield, in the Fresh Prince colourway, named after the classic 90's sitcom. Generally when I get a new pair of sneakers I tend to get things that are connected to my life somehow. In this instance, Fresh Prince was a formative part of my youth and growing up. It was not only funny and well written, but was extremely relevant to growing up as a black man. The series still holds up to this day and only has one or two dud episodes.
Water is always a good element to use in these shots since it's got a lot of natural motion to it. All I had to do is position my foot and hit record! In the cutting room it was a case of finding the frame I wanted, isolating the shoe and leg, letting the video run to get the water moving and drawing the white swirl onto the leg.
I spend a lot of time at comic conventions and I get prenty of oppourtunities to meet and take shots of some cool people. It also allows me to work with people with passion for what they do. This is where I get emotive shots like this. 
The cosplayer went to the event dressed as Cyclops from X-men, a character known for firing beams from his eyes. The element of the light in the visor was added to the still image to give the impresssion of the beam powering up and preparing to fire. While it being a very simple effect it brings a more dynamic element to a very striking piece.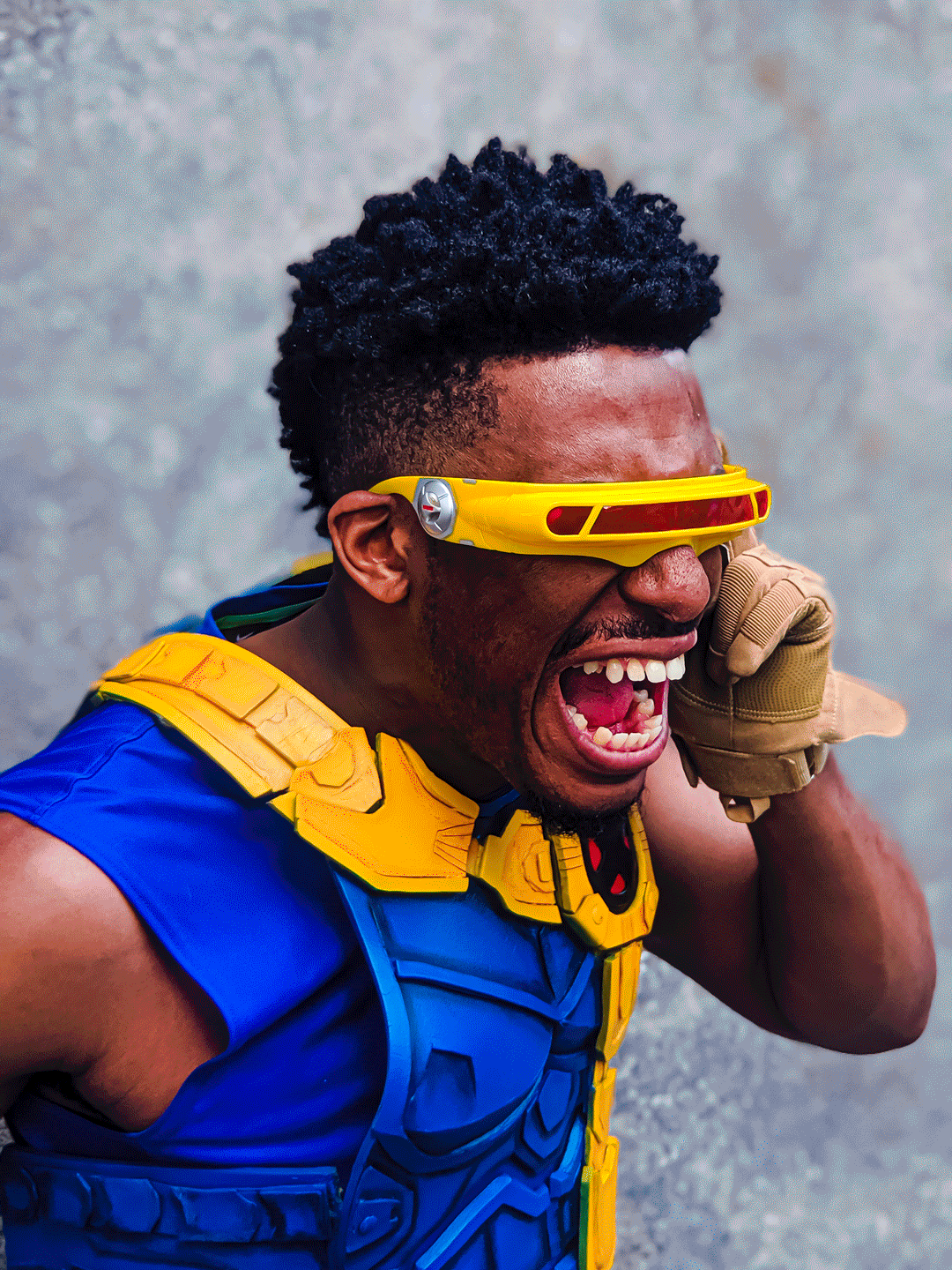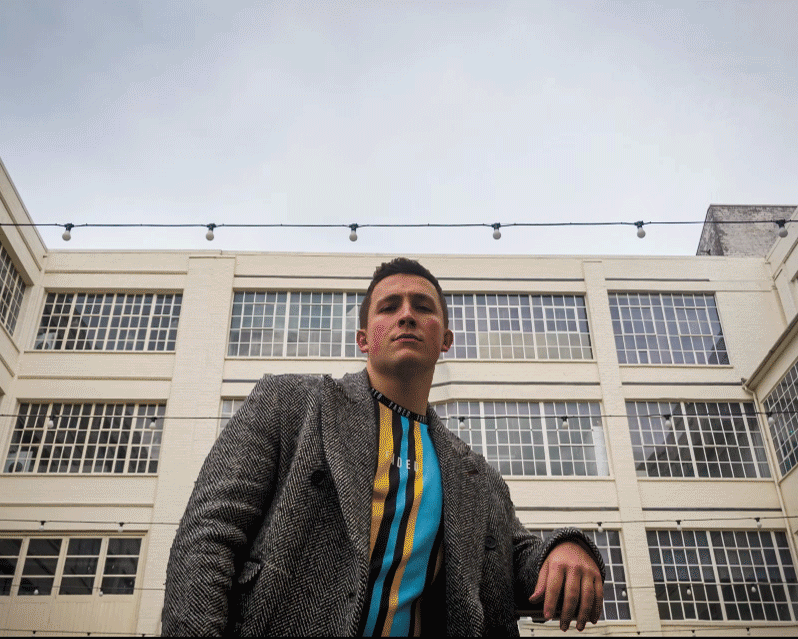 This shot was one of my first shots that involved more of a fashion angle and my first time heading to a photography meet. There I met several talented individuals and many who were willing to join in on my creativity. On that day I think I was at peak creativity as walking around the city centre and bouncing ideas of other talented models and photographers allowed me to stretch the boundaries of what I thought was possible.
The image itself was meant to resemble the kind of shot you would see in a fashion magazine or on a fashion blog. It helped that the model I was working with had experience in that field, so all I really had to worry about was pointing and shooting.
When I got into the edit, I saw that the image had a very grand feeling to it with the building towering over my model. I wanted to exagerate the size difference between the two, while still having your attention drawn to the subject. The parallax effect was used to manipulate the movment of the foreground and background to give the desired effect.